AGENDA 2030 FOR SUSTAINABLE DEVELOPMENT
Green Ocean makes a direct contribution to the goals for sustainable development of the United Nations for the transformation of our world
– a blueprint for a better and more sustainable future for all…
GO for solution
CLEAN WATER AND SANITATION
Water scarcity affects more than
40% of the world's population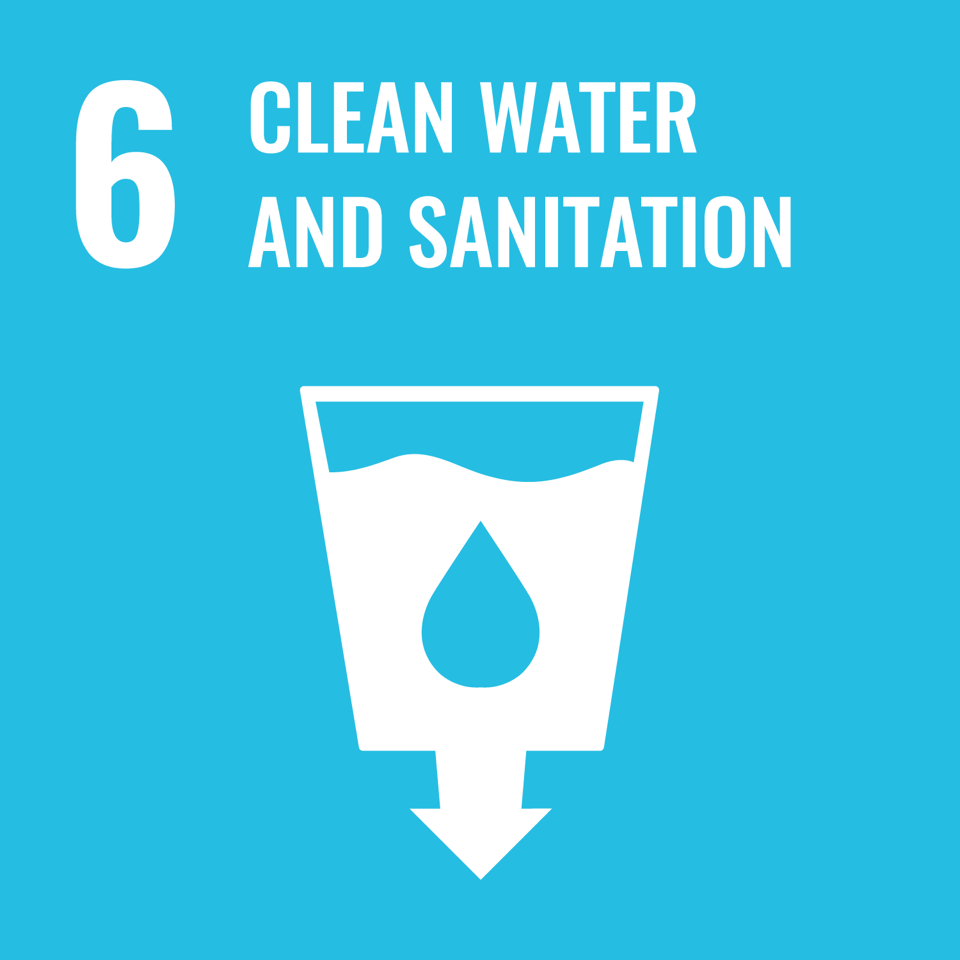 With 40% shortfall in freshwater resources by 2030 coupled with a rising world population, the world is facing a global water crisis.
Recognizing the growing challenge of water scarcity the UN General Assembly launched the Water Action Decade on 22 March 2018, to mobilize action that will help transform how we manage water. 
Green Ocean supports direct improvement in water quality…
as our wastewater technologies reduce pollution, minimize the introduction and release of dangerous chemicals and substances, significantly reduce the amount of untreated wastewater and significantly increase recycling and safe reuse worldwide.
– Sustainable Development Goal 6.3
Green Ocean provides substantially increase in water-use efficiency…
across all sectors and the sustainable withdrawals and supply of freshwater to address water scarcity and substantially reduce the number of people suffering from water scarcity.
– Sustainable Development Goal 6.4
Green Ocean is active in the expansion of international cooperation…
and capacity-building to developing countries in water- and sanitation-related activities and programmes, including water harvesting, water efficiency, wastewater treatment, recycling and reuse.
– Sustainable Development Goal 6.A
Green Ocean provides its expertise to local communities…
for the improvement of water and sanitation management.
– Sustainable Development Goal 6.B
INDUSTRY, INNOVATION AND INFRASTRUCTURE
Innovation and infrastructure are
crucial to achieve sustainable development
Innovation and technological progress are key to finding lasting solutions to both economic and environmental challenges, such as increased resource efficiency.
Green Ocean's DNA is the continuous research and development of next generation technologies in environmentally-friendly wastewater treatment and recycling management.
Green Ocean develops high quality, reliable and sustainable technologies…
and infrastructure, including regional and transborder infrastructure to support economic development and human well-being – our focus is on affordable and partnership-based access.
– Sustainable Development Goal 9.1
Green Ocean upgrades infrastructure and retrofits production processes in industries…
to make them sustainable, with substantially increased resource efficiency and greater adoption of its clean and environmentally-friendly technologies and industrial processes.
– Sustainable Development Goal 9.4
Green Ocean supports with scientific research and translates it into innovative solutions for the industries,...
promotes innovations and continuously increases capacities in research and development.
– Sustainable Development Goal 9.5
Green Ocean facilitates the development of a sustainable and resilient infrastructure...
through improved technological and technical solutions for use in private organisations and public institutions in developed and less developed countries.
– Sustainable Development Goal 9
RESPONSIBLE CONSUMPTION AND PRODUCTION
By 2050, the equivalent of almost
3 planets could be required to sustain current lifestyle
Worldwide consumption and production rest on the use of the natural environment and resources in a way that continues to have destructive impacts on the planet.
Sustainable consumption and production is about doing more and better with less.
12.6: Green Ocean encourages especially large and transnational companies to adopt sustainable practices and to integrate sustainability information into their reporting cycle.
Green Ocean actively supports municipalities and enterprises…
to achieve sustainable management and efficient use of natural resources.
– Sustainable Development Goal 12.2
Green Ocean makes a contribution to achieve the environmentally-friendly handling of chemicals…
and the sustainable disposal of toxic compounds in water during the entire life cycle. Our technologies significantly reduce release of toxic substances into water, air and soil, and minimize their adverse effects on human health and the environment.
– Sustainable Development Goal 12.4
Green Ocean substantially reduces waste generation…
through prevention, reduction, recycling and reuse.
– Sustainable Development Goal 12.5
Green Ocean encourages large and transnational companies…
to adopt sustainable processes and thus to integrate better sustainability achievements into their reporting cycle.
– Sustainable Development Goal 12.6
CIRCULAR WATER ECONOMY
Water is the single most important shared resource across all supply chains and wastewater the largest untapped waste category
– water is the natural starting point for the circular revolution
A circular water economy holds much promise:
Scarcity will be replaced by abundance and the resources needed to run our global water infrastructure greatly reduced…
GO for solutions
WATER CIRCULARITY
– MOVING THEORY INTO PRACTICE
Green Ocean believes in water as a durable and provides practical proven solutions to retain its full value to be reused
Moving water circularity from theory into practice needs to turn away from the linear model, in which water becomes successively more polluted as it travels through the system, rendering future use impossible.
We should view water as a durable with a long or infinite life span, where it retains its full value after each use and circulates in closed loops under zero-liquid discharge conditions, allowing repeated use and optimizing resource efficiency.
The major goal is not to keep water free of contaminants but to manage the integrity of the closed loop cycle to reduce discharge from installations to an absolute minimum, minimising consumption and environmental impact.
Green Ocean provides solutions, which close the loop to water circularity in highly toxic and heavily to non-biodegradable industrial wastewater already today – not in theory, but proven in industrial practice!
ZERO LIQUID DISCHARGE
Zero-waste imperative lies at the heart of any circular economy
– Green Ocean helps to close the loop to zero liquid discharge
Zero liquid discharge includes a range of technological solutions enabling the reuse of water and recovery of liquid end waste, such as sludge treatment and physical up to modern membrane-based separation processes.
Thus, the sustainable handling of sewage sludge and concentrates is the missing central element for the zero liquid discharge principle to be realised in industrial practice.
Green Ocean's next generation technologies provide practically proven solutions, which mineralize pollutants from sewage sludge and concentrates or modify them so that the resulting products are biodegradable. This treatment of sewage sludge and concentrates ensures that no pollutants are transferred to other environmental compartments and that sewage treatment plants operation is not impaired through concentrate treatment and disposal.
Green Ocean's next generation technologies thus can help to close the loop for zero liquid discharge to become reality in industrial practice.
RESOURCE EFFICIENCY
Green Ocean's technologies fulfill all principles of sustainable resource efficiency
The constituent substances in concentrated wastewater – also heavily or non biodegradable chemical compounds – are converted with Green Ocean's technologies in a single or multi-stage process to a great extend into CO2 and water.
In contrast to all physical separation processes, Green Ocean does not need intermediate or final storage for the disposal of organic, non-biocompatible wastewater constituents.
Green Ocean also complies with the second principle of resource efficiency in the disposal of industrial wastewater: biocompatibility of the undiluted wastewater constituents before they are discharged into a public sewage treatment plant or an on-site preflooder.
When it comes to the economic criterion of sustainable resource efficiency in the disposal of industrial wastewater, the Green Ocean processes convince with their flexibility and efficiency in operation and disposal costs:
Reduction rates of up to 90% related to the input COD load

High biocompatibility of the residual discharge

 (≥ 0,6 – 0,9 (BOD

5

 / COD)) 

even with previous toxicity

Continuous, autothermal

plant operation

Low use of chemicals

Low space requirements
Application window
Concentrated wastewater with COD 
from 1.000 to >100.000 mg O2 / l
COD Reduction

Reduction of toxic ingredients
by 70 – 90% (COD)
Waste water of private households (0,5)
Biocompatibility
Increase of biocompatibility
to > 0,6 – 0,9 (BOD5 / COD)
Reactor capacity
Space-time-yield:
5 to >15 kg COD / m3 h
Reactor operation

Continuous process – autotherm
Space requirement
Small, compact systems
(floor space: 30 – 50 m2)